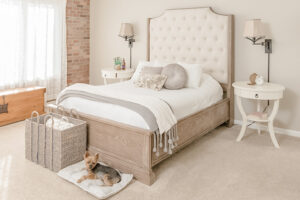 Would you like to refresh your Master Retreat? And where do you stuff all those pillows and blankets?!
Redesign with the right touch of Professional Organization gives beauty and function to any space and will change the way you live and work within your home. So where and how to you gain function and design in a Master Bedroom? An easy answer is to stuff it all under the bed, right?! True… this is a great place to store seasonal items. Firstly, with the right height of space and organization, this is a great place to start! Another thing, be sure to include visibly pleasing containers or baskets that fit the aesthetic style of the space. Besides what about those extra decor pillows and bedding when the bed is in use? Where and what do you use? Not one size fits all because every space is different, so here are some organization ideas you may find in another space in your home in need of repurposing:
 A bench/trunk
Oversized baskets.
Console or Tabletops
Ottomans
Bay window built-ins
Oversized Chair
Many of these organization ideas look great underneath a window or placed at the footboard. So whatever organization solution you choose should be convenient and simple to access. Above all, fitting the style and theme of your space will keep the space feeling balanced. Could you use a Professional Organizer? Contact us today and we'll get you Redesigned and Organized in no time!