Texture Through Wall Treatments: 
Wall Treatment is an umbrella term for anything that changes the finish and texture of the wall. This could be veneer finishes, wood paneling, wainscoting (which is visible in the first picture) or brick and stone (as seen in picture number 2 & 3), and many others. Wall Treatments are one of the most cost-effective ways to change the look and feel of your space. The main factors that separate the different methods are application, cost, and finish. Anything from pebble and cottage style rock walls, to sand finishes and paint, are all wall treatments. That's right, even just painting your walls is considered wall treatment. Now, we could have a book of the pros and cons of the different wall treatments, but rather than bore you with that, we are going to discuss choosing based on the actual function of the space.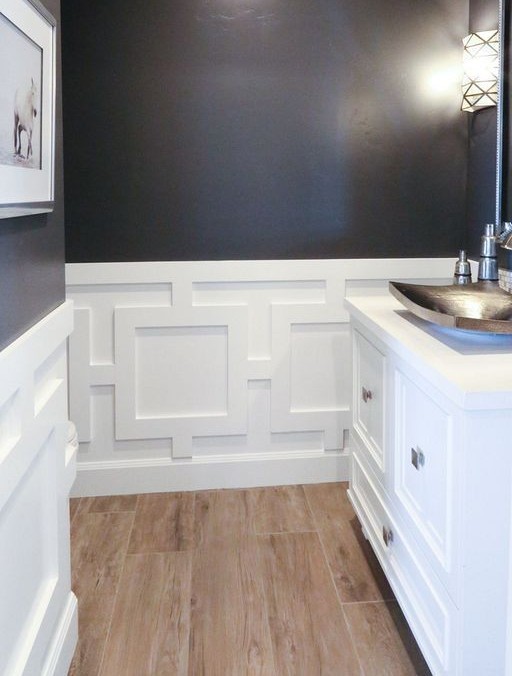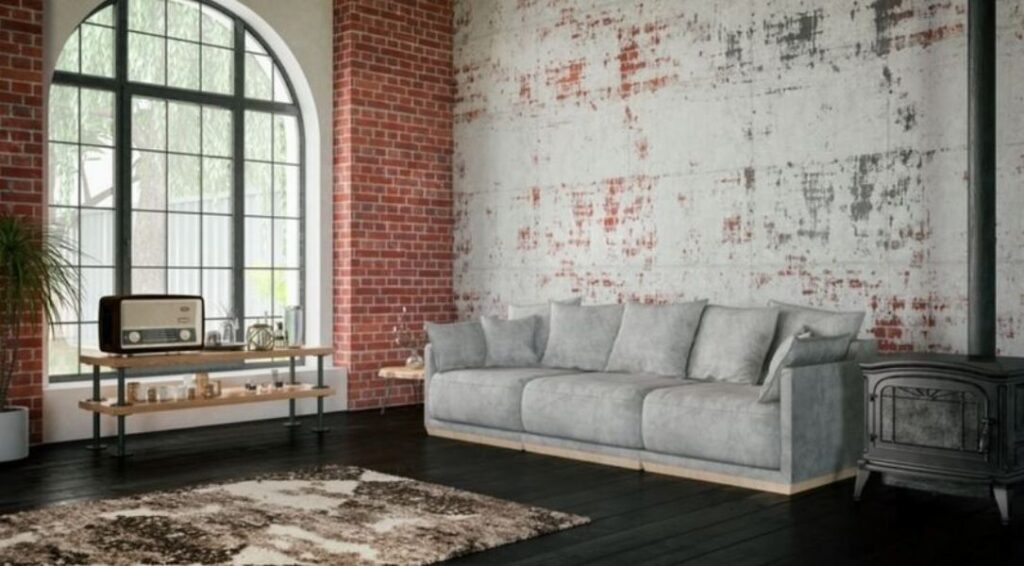 Advantages of Using Wall Treatments:
There are numerous advantages to the different forms of treatments. For one that fits across them all, Distinction. If there isn't a clear distinction from one room to the next, wall treatments are a great and inexpensive way to fix that. By taking a normal bathroom and installing wainscoting (as you can see in the photo) it changed the feel of the room from smaller and dark to contrasting and classy. Another huge advantage is protection for your walls. This will get touched on in more detail in the following paragraph, but protecting your walls while also changing the style to something more fitting, win-win. The third and most obvious one is Aesthetics. Wall treatments can make all the rooms feel like each one has a completely different theme and style, easily and efficiently.  An example of choosing the right aesthetic for a space is seen in the photo below. This is a fantastic example of a unified space creating a warm and "homey" feel (which warm-toned stones and wood are great at doing!)
Finding the Right One for Me…
So which method is right for me? That comes down to use and function. #1 is the level of durability needed in your home. This is crucial! Not only do wall treatments provide texture, color, and style, but also protection for your walls. Children and pets are great examples of things to take into account as well because damage is GOING to happen, so plan for it accordingly. Of course, we have to mention the cost! Wall treatments can be done rather inexpensively or done with as much money as you would like to spend. Be sure to stay tuned to our social media this week as we will dive into cost a little further and showcase two different methods within different budgets. The third factor is the Install Method. Are you planning to do these changes yourself, or will they require the work of a specialized contractor? Some of these styles can only be done by those with experience, while others can easily be done as a DIY home project, and many can be a hybrid of the two! That will make a difference in selection as well.
An example of a wall treatment update and design project we performed can be seen below in this short video!
If you are looking into wall treatments, take some time to check out the many different styles online. There is a type of wall treatment for anyone and any room. If you would like to check out some ideas, use Houzz and Pinterest. Then make a list of the things you are looking to get out of the application. Durability, protection, distinction, and uniqueness; all important pieces of making the decision. It all depends on the look and feel you are trying to achieve in your home. Keep an eye on our social media this week for more content related to taking advantage of textures and wall treatments. If you have any questions, reach out to us today for a free phone consultation and we will happily help you in any way we can. Have a great week everyone!