Kitchen Island Height and Dimensions
Kitchen islands are the trend, a timeless trend that is. Much like the Chanel flap bags, kitchen islands are a classic statement.
Like any installation in your home, kitchen islands have standard dimensions. They are set to ensure that your everyday life goes by effortlessly. Customizing is possible, but can affect your project's budget.
So what is the best kitchen island height? Are there different standards? There sure are, and we're going to explain them in this article.
At first, people used farm tables in front of the stove to add workspace in the kitchen. This informal dining area became part of every family's life.
An article in Food & Wine provides a brief historical overview of the kitchen island. When Frank Lloyd Wright's client wanted to interact with her guests while preparing meals, the architect designed a kitchen with indoor windows. Then shows like Food Network emerged and attracted viewers with the professional-looking kitchens. Later on, kitchen islands got upgrades to have shelving units and appliances.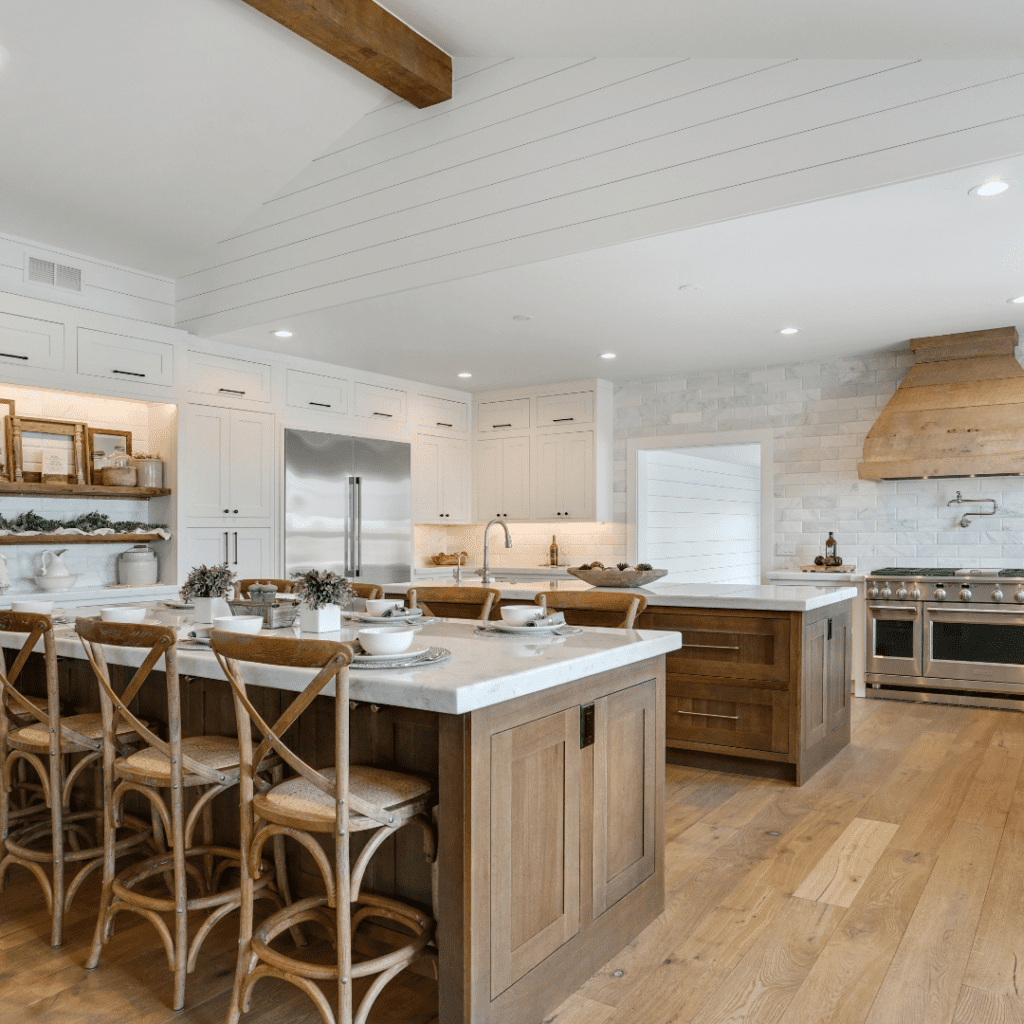 Kitchen islands maximize the work and storage zones. They define the space by focalizing open areas. They serve as a bar and dining area. Sometimes they even become a study zone!
Kitchen Island Dimensions
Let us agree on one thing: kitchen islands need space. Yet, even if it's narrow, you can still fit a kitchen island thanks to proper consultation with an expert.
The kitchen island dimensions are generally around 40 by 80 inches in depth and width. But, beware of too much space. You don't want to feel that items are too far. Usually, the room size dictates how big or small an island should be. One-fifteenth of the total kitchen plan is enough.
Sometimes the size of the countertop defines the kitchen island dimensions. Before planning for a large kitchen island, you need to check with the manufacturer for countertops sizes.
Between the island and the counter, it should be enough for two people to stand, around 3 to 4 feet.
If the kitchen island height is the same as the regular counter, then the standard kitchen island height is 36 inches tall. If you prefer to have a bar-height counter, then you'll opt for a 42 inches tall kitchen island.
Counter Height Seating Explained
First, you need to define the main users of the seating space around the kitchen island. Are there going to be kids and elderly sitting there, or is it mainly for adults and friends? It also depends on what you want your guests to be seeing when you are hosting them.
Kitchen islands are about interacting with guests and family members. So if you're going to be the main player in your kitchen, what type of workspace and height fits you the most?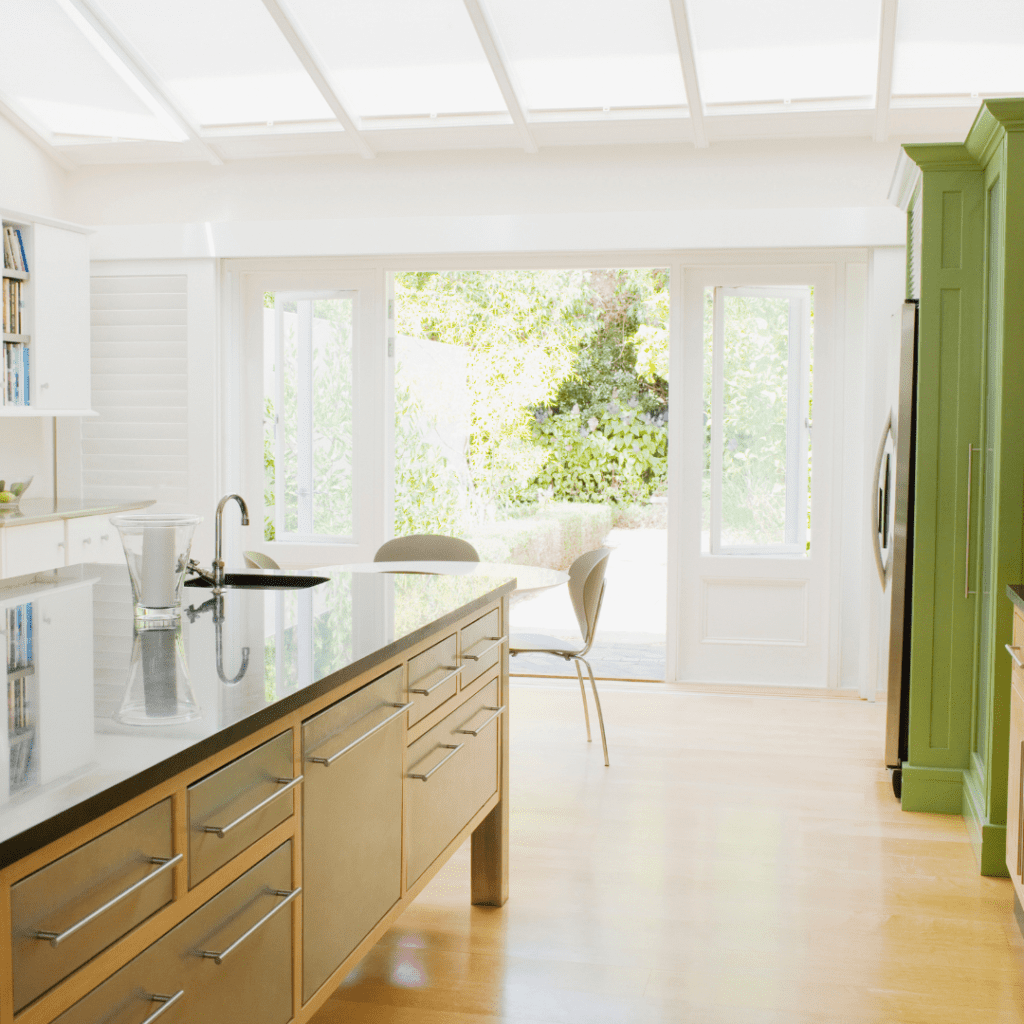 When you define the standard kitchen island height, the seating type follows spontaneously. Either you have a kitchen island counter height of 36 inches. Or it could be at a higher level with a 42 inches bar-like seating space with high stools. The seating area should have an overhang for the stool to be tucked underneath. 12 to 14 inches of the overhang are enough. The countertop's thickness and materials slightly affect these dimensions.
The space per seat should be around 28 inches for adults. But 20 inches for kids is enough. This will allow guests and family members to sit and dine comfortably.
Keep in mind that seating at kitchen islands is for informal meals. The higher the level is, the less comfortable the seating experience becomes.
Frequently Asked Questions
What is the difference between Kitchen Islands vs Peninsulas?
If you want to know the difference between a kitchen island and a peninsula, think Hawaii and New Jersey. Hawaii is not attached to the mainland and is surrounded by water from all sides, it is an island. Whilst New Jersey is attached from one side only to the mainland. As the name says, a kitchen island is a separate part from the main kitchen counter. Whereas a peninsula has one part attached to the main kitchen counter. So now you know that New Jersey is a Peninsula!
Can kitchen islands be taller than counters?
The kitchen island doesn't have to be the same height as the counter. Remember, it all depends on what you want to let people see. It can be around 6 inches taller than the 36 inches counter. If you want to budget, you can go for a regular 30 inches dining table instead of a kitchen island. And with dining chairs, you got yourself a formal setting!
Can kitchen islands be a different color than other kitchen counters?
Of course. And it's not only about different colors. Personalizing your kitchen has infinite possibilities. You can mix and match tones and materials. From hardwood to bold colors, industrial and country style, it's all about balance. You can learn here how to style your space while balancing colors and textures.
Are Multi-level kitchen islands practical?
It depends on how and what you are using your kitchen island for. If you cook basic meals that don't need a lot of workspaces, then multi-level kitchens can be practical for hiding dirty counters. But if you spend a lot of time cooking in the kitchen, then you need a larger workspace. Different heights mean less working space and could be a little more complicated to clean.
Should you have a sink on your kitchen island?
There are pros and cons to adding a kitchen island sink. If you cook large meals and need quick access to a water basin, then a kitchen island sink is great. But this space will have dirty dishes and be regularly cluttered, which is not a pretty sight for guests. You will also need a large island to accommodate a sink, and it shouldn't be at the far edge of the countertop. Adding a dishwasher along with the kitchen island sink is more practical.
You can customize your kitchen height, depth, and width. You can even add features and appliances to fit your needs such as a cooktop, dishwasher, and sink.
Lighting is also essential to set the proper mood for your space.
That's the beauty of interior design, there is always a possibility of change.
Are you thinking of a kitchen renovation? Then these kitchen island ideas will leave you stunned.